Did this thread last year when I built my first spreadsheet for the draft. My default sort in the positional tabs is by weight so some guys just by virtue of their measurables end up at the top. As it turns out, we have some very good prospects on this list to go with some guys who get noticed just because of their size.
Running Back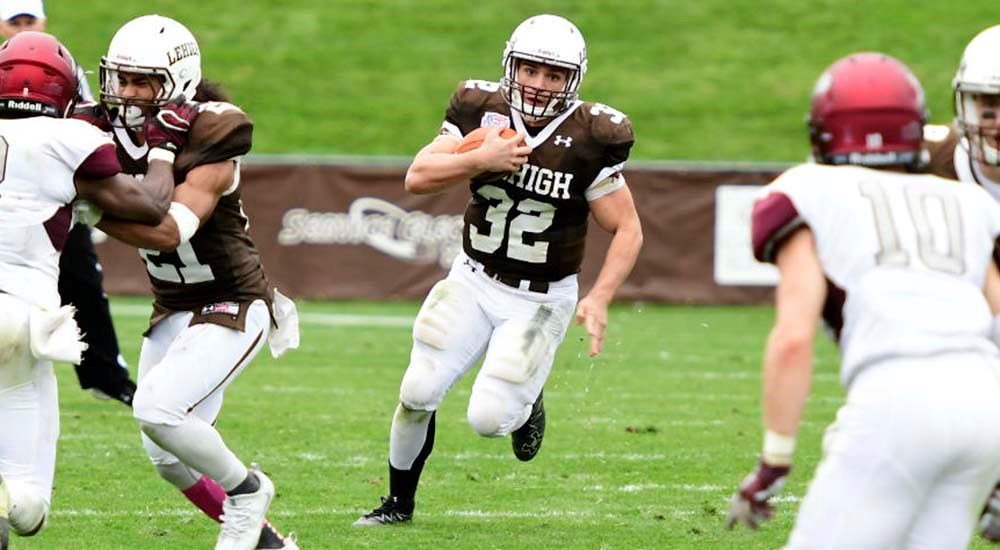 Dom Bragalone, RB Lehigh, 5'11 230lbs
I kinda wonder if they're shitting me here. In terms of size, he's supposed to be within an inch or two and a couple of pounds of Saquan Barkley. Maybe it's all biceps. Regardless, it's a bit of an undersized class at RB this year, guys. Hope you weren't looking for this year's Derrick Henry.
*Note to the guys who've got my spreadsheet, Move Cal Daniels of Stony Brook from RB to TE
Tight End
Tommy Sweeny, TE Boston College, 6'5 255
An inch shorter, but nearly 15lbs heavier than OJ Howard. gets about 4 catches a game with a career high of 7 last year.
Wide Receiver
Hakeem Butler, WR Iowa State, 6'6 219lbs
The cyclones must really like Big bodied Wide Receivers because I had Allen Lazard in this thread last year. Butler is tied with 2 other guys for tallest, but of those guys, he is the biggest.
In terms of weight, that title goes to this guy: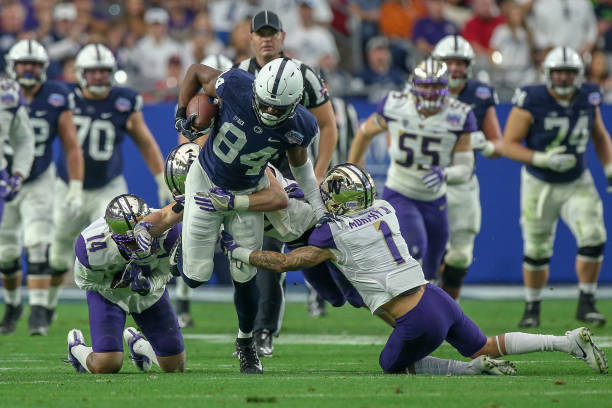 Juwan Johnson, WR Penn State 6'4 229lbs
This is pretty much what you want for a big wideout. He's about an inch shorter and about 5lbs lighter then Calvin Johnson. Or if you want to go local, he's and inch shorter and 2lbs lighter than Mike Evans. If he's got elite speed, he's going to be very popular next spring...assuming he declares.
Left Tackle
BJ Autry OT, Jacksonville State 6'5 340lbs
How this guy isn't a nose tackle is beyond me. He's frickin huge! He's an inch taller an a ham sandwich away from being Vita Vea. Might surprise you to learn that he is an inch shorter and roughly the same weight as Donovan Smith though.
Left Guard
Nate Herbig, OG Stanford 6'4 348lbs
This dude looks like he blocks the sun. This is what Ali Marpet would look like if he ate Dontaee Dye. Marpet is 307lbs.
Center
Michael Deiter, OL Wisconsin 6'5 325lbs
Deiter is a top prospect this year not only for his size, but for his versatility. He's played Center, Guard, and Tackle for the Badgers. He's so damned big, he's going to take up the Center AND right guard positions in this post. (not a great class of Guards anyway)
Right Tackle
Kaleb McGary, RT Washington 6'8 325lbs.
If you're looking for the heir apparent to Demar Dotson this year, McGary should be high on your watchlist. the Huskies are sporting a pair of great tackles this year and McGary is about as slender and athletic as you can ask a man of that size to be. He doesn't look it, but he's 10lbs heavier than Demar Dotson who is a freak in his own right. Rock solid human human right there. an absolute unit.
Defensive End
Miles Brown, DE Wofford 6'2 320lbs
Here ya go, mdb. If I am scouting this kid and see some decent speed off the edge (I doubt it) I'm thinking of how fast he could be after shedding 20lbs. Then you would have the same size and body type as Warren Sapp.
Defensive Tackle
Dexter Lawrence, DT Clemson 6'4 340lbs.
The Ringo Starr of the Clemson defensive line. Austin Bryant, Clelin Ferrell, an Christian Wilkins get all the hype, but Lawrence isn't there for his good looks. He is literally comparable in size to Gilbert Brown who swears he never got bigger than 350lbs.
Linebacker
Porter Gustin, LB USC 6'5 260lbs
He's bigger than Luke Keuchly, Khalil Mack, CJ Mosley, Bobby Wagner, and any linebacker we have in Tampa. Hell, he's almost as big as JPP and they say he has 4.5 speed. You know who else had 4.5 speed? Lawrence Taylor. Who was also smaller than Gustin. Dude might be the biggest freak on this list.
Corner
Jamel Dean, CB Auburn 6'2 215lbs
At that weight, he's gotta be a saftey at the next level. He's about 20lbs above average for this class.
Saftey
Kendall Adams, S, Kansas State 6'1 228lbs
In terms of size, he's comparable to Landon Collins or Kam Chancellor. If you're gonna play Saftey at that size, you had better be able to cover people the way Collins and Chancellor can.
* Guys with the spreadsheet should update Marvell Tell of USCs weight to 194lbs.
Wee Man
Sean Riley, WR Syracuse 5'8 151
THROW IT TO LUCAS! If Riley manages to get to the next level, he would be likely be the smallest man in the NFL an that includes kickers and punters. Seriously, Darren Sproles may be only 5'6, but weighs in at 190lbs.
There you have it.