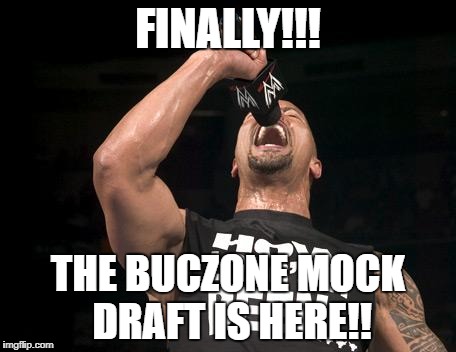 It's that time of year again ladies and gentlemen (and those unsure).
This thread will be for posters to select teams, discuss the picks, trade options, etc (basically everything other than the player selections which will have it's own separate, dedicated thread).
RULES
-Must pick 1 NFC team and 1 AFC team that hasn't already been picked.
- Browns and Bills have multiple picks in BOTH of the first two rounds.
- Patriots and Jets have multiple 2nd round picks
- Texans and Chiefs have no 1st round pick
- Texans, Seahawks, Rams, Saints, and Eagles have no 2nd round pick
- *IMPORTANT* If you select any of the (4) AFC teams with MULTIPLE picks (Browns, Bills, Patriots, Jets) YOUR NFC TEAM MUST BE ONE OF THE FOLLOWING (Seahawks, Rams, Saints, Eagles)
-You will have a predetermined amount of time to make a pick...say 12 hours or so. If you fail to make a pick in a certain amount of time(or you fail to acknowledge that you're still participating in any way), it bestows upon the community to select a player for your team. This could result in loss of a team.
-Any and all trades must be acknowledged by both owners, as well as compensation given up/received.
-If you don't believe you'll be able to make a pick during a certain period(which your pick may show up), you can PM a player(s) to the commissioner so that an accurate pick can be made in your absence.
-Discussion is encouraged, but please, no arguing.
This interactive mock draft will start next week after the combine is completed and will be the first of at least two, as we'll do another after free agency sometime in April.
Here is the draft order for rounds 1-2. If we have enough interest we'll extend it to 3
Round 1
1 Cleveland - Zarni
2 NY Giants - BMD
3 Indianapolis - RBF
4 Cleveland (via HOU) - Zarni
5 Denver - Bucs N Beers
6 NY Jets - Pinko Bourne
7 Tampa Bay - RBF
8 Chicago - Konatown
9 San Francisco - Cheb
10 Oakland - Cheb
11 Miami - Konatown
12 Cincinnati - BMD
13 Washington - Bucs N Beers
14 Green Bay - Bootz
15 Arizona - reagan SMASH
16 Baltimore - MJW
17 LA Chargers - Nano
18 Seattle - Brazen
19 Dallas - Super K
20 Detroit - MB
21 Buffalo - Teitan
22 Buffalo (via KC) - Teitan
23 LA Rams - Teitan
24 Carolina - Nano
25 Tennessee - DreadNaught
26 Atlanta - DreadNaught
27 New Orleans - Pinko Bourne
28 Pittsburgh - Bootz
29 Jacksonville - reagan SMASH
30 Minnesota - MJW
31 New England - Brazen
32 Philadelphia - Zarni
Round 2
33 Cleveland - Zarni
34 NY Giants - BMD
35 Cleveland (via HOU) - Zarni
36 Indianapolis - RBF
37 NY Jets - Pinko Bourne
38 Tampa Bay - RBF
39 Chicago - Konatown
40 Denver - Bucs N Beers
41 Oakland - Cheb
42 Miami - Konatown
43 New England (via SF) - Brazen
44 Washington - Bucs N Beers
45 Green Bay - Bootz
46 Cincinnati - BMD
47 Arizona - reagan SMASH
48 LA Chargers - Nano
49 NY Jets (via SEA) - Pinko Bourne
50 Dallas - Super K
51 Detroit - MB
52 Baltimore - MJW
53 Buffalo - Teitan
54 Kansas City - MB
55 Carolina - Nano
56 Buffalo (via LAR) - Teitan
57 Tennessee - DreadNaught
58 Atlanta - DreadNaught
59 San Francisco (via NO) - Cheb
60 Pittsburgh - Bootz
61 Jacksonville - reagan SMASH
62 Minnesota - MJW
63 New England - Brazen
64 Cleveland (via PHI) - Zarni