Official Pre-draft mock. Free agency has largely settled, and the team is starting to come into focus.
First round - David Njoku or OJ Howard, Tight Ends, Miami or Alabama. (6'4", 246 or 6'6", 251lb). The more I think about it, the more I think this is likely to happen. If one of these guys is there at nineteen, he is a Buc. It makes every type of sense. They would help the run game by at least stalemating their defenders, the playaction game becomes deadlier, they can work the middle of the field while DeSean and Evans play on the outside. They can be legit threats with Brate in two tight end sets, especially since the newest Buc could play in tight or split out wide. Since Brate can do the same, that means the same huddle personnel (Evans, Jackson, Brate, and the new guy) is absurdly versatile. They can come out as four wide receivers in the shotgun, two tight ends on the line, three wides and one tight, in the I-formation with a tight end in the backfield as a fullback, or whatever else Koetter dreams up. A defensive coordinator is fucked either way he plays it. He tips his hand with his personnel grouping and he can be beat the other way; play base and get burned against the pass, play nickel or dime and get overpowered against the run. Back to the selection. Either man also would bail out Winston multiple times a game. He would demand safety help, threaten the seam, and have the athleticism to leave linebackers in their dust while boxing out safeties. I prefer one over another, most do, but one thing can't be argued. Either one would be a welcome addition to our team.
David vs Pitt -
https://www.youtube.com/watch?v=5yWAS7Q8Phk
David vs Virginia -
https://www.youtube.com/watch?v=SyIIv-lpkTo
OJ vs Texas A&M -
https://www.youtube.com/watch?v=f1vnP9FFigY
OJ vs Auburn -
https://www.youtube.com/watch?v=k2-4KN7V6RU
Second round - Chris Godwin, WR, Penn State. (6'1", 209lb). The Bucs invited him for an official visit, went to his Pro Day, and had him do private workouts with our receiver coaches. Suffice to say, I think we are interested. And for good reason. Even though his stats are not always stunning, Godwin plays the game of football very well. He has very strong hands, a large catch radius, and is very good at winning contested throws, which helps a young quarterback like ours. He is able to run any route you want from any position on the field. He has excellent football character, a team-first player who gives good effort as a blocker and enjoys doing the dirty work in the middle of the field. He offers YAC ability after the catch, showcasing both power and speed to pick up additional yardage. He isn't the fastest, but he's fast (4.42), he isn't the biggest but he isn't small either (6'1"). He scored in the top half of most of the combine drills for wideouts, showing a well-rounded athleticism. No, he wouldn't win rookie of the year here, but that's okay. He would offer excellent reps as our number three receiver, pushing Hump down to four and deepening the group as a whole. He can line up anywhere on offense as a receiver, giving us more flexibility. Encouragingly, Godwin plays his best on the biggest stages, in his bowl games, with a total of 24 catches for 460 yards and three touchdowns in three career bowl games. Godwin would certainly be a stud on special teams with his speed and general football saavy. All-in-all, I don't think there's a downside to picking Godwin. I can see why we like him.
Chris vs USC -
https://www.youtube.com/watch?v=dHCwL5J8jyM
Chris vs Michigan -
https://www.youtube.com/watch?v=roN-T7aKfsg
Third round - Jordan Willis, DE, Kansas State. (6'4", 255lb). Depending on where you look online, Willis is rated between the 8th and 12th best edge rusher in the draft. He's also the only edge that the Bucs have visited with more than once. Willis is a team captain with three years of starting experience who was the Big 12 Defensive Player of the Year this season after getting 52 tackles, 17.5 tackles for a loss, and 11.5 sacks. He can line up everywhere on the defensive line except nose and provide productive pass rushing snaps, although he is probably a bit light in the ass to play on the interior in the NFL. He plays much larger than his listed size, holding his ground in the run game and he doesn't get pushed around while pass rushing. Willis has a solid motor on run and pass snaps. He tested well athletically at the combine for those of you that care about such things, with respectable scores in the 40-yard dash, vertical jump, 3 cone drill, and 20-yard shuttle. Consistently good first step on the snap of the ball. I love his hands; this man has been well coached. True, he is a bit stiff, which will limit him as an edge rusher in the pros, and true, he does tend to run out of gas far too quickly for my liking, but there's a lot to like about Jordan Willis. He has a solid repertoire of rush moves and a knack for finishing plays. Not bad for a third rounder.
Jordan vs Stanford -
https://www.youtube.com/watch?v=Fg4X-8fNx0A
Jordan vs Texas -
https://www.youtube.com/watch?v=OWNuD-2Qaz0
Fourth round - Marlon Mack, RB, South Florida. (5'11", 213lb). This pick practically writes itself. He's the career leader for most rushing yards from the university in the same city, a local former five-star prospect who was born just south of the Tampa area. ****, he played his college ball in the same stadium as the Buccaneers! Mack was first-team all-conference every year in college, averaged over 100 rushing yards per game, and had over 1000 yards every season. He has the ability to make explosive plays all over the field, playing much faster than his combine 40-yard dash of 4.50 seconds. He outruns many people with better 40 times than him. Marlon is consistently explosive, with six of his fifteen rushing touchdowns this year being over 40 yards long. He has some sneaky power and wiggle to his game. He has relatively little tread on the proverbial tires. Mack literally jumps off film. I found him accidentally when scouting a defender who Mack made look stupid on more than one occasion. Yes, this prospect has twelve career fumbles, which is very concerning. Sometimes I literally said out loud to myself when watching him "what the **** kind of ball security is that?" He has some serious issues protecting the rock, but I think it's more between the ears than an uncorrectable issue. And yes, Marlon can be a frustrating hesitant runner at times and yes, he doesn't really seem to care as much when running between the tackles and yes, he runs high and yes, he isn't the bellcow you are looking for. But it's the fourth round sweetheart, no one here is likely to be an impact player, at least early in their careers. Mack would be a great Tampa story that few can resist, and he would make for a solid member of the backfield committee.
Marlon vs Temple -
https://www.youtube.com/watch?v=wBGvbL-Wqxo
Marlon vs UConn -
https://www.youtube.com/watch?v=fCQ4PF48Qeg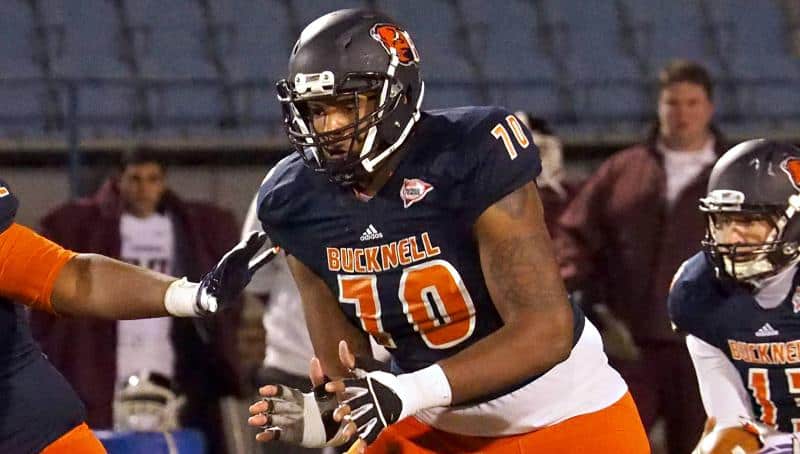 Fifth round - Julie'n Davenport, OT, Bucknell. (6'7", 318lb). Here's your small school developmental lineman. This guy is interesting. He was a two-time All-American left tackle at a lower level of competition and he has ideal size for the position. He has very long arms, the longest in the draft (even longer than Mike Evans' arms, believe it or not). He spent his college career easily winning against people who aren't very good or big or strong, and like most people in that situation, his technique is crap. Really, really bad. Inconsistent feet, bad hands, a waist-bender, plays high, gets slapped around more than he should, lots of jogging, isn't very physical. There's a lot to be desired, for sure. When he does have solid technique, he looks pretty good, but he is a model of inconsistency. Julie'n has ideal size and decent athleticism, which will get him drafted. The Bucs have met with him at least twice, and he's just the sort of guy that a scouting nerd like Licht would geek over. I wouldn't expect anything out of Davenport anytime soon, but he could be a nice developmental guy going forward, taking up a roster spot on the 53 but not dressing for game day, developing his strength, and finer points of blocking technique.
Julie'n vs Virginia Military Institute -
https://www.youtube.com/watch?v=pi1UzckKRTY&t
Julie'n vs Georgetown -
https://www.youtube.com/watch?v=ZC_vFCB0uSo
Six Round - Michael Roberts, TE, Toledo. (6'4", 270lb). Michael Roberts is a pretty popular selection around here, and for good reason. He has great size to him, and he had sixteen receiving touchdowns last year. People see those numbers and think man, he must be a second day selection, no way he drops this low, Cheb you're drunk! Well, there's a reason he's listed most places as a mid and late rounder. Those numbers are a bit deceitful. He doesn't offer very much vertically, never averaging more than 11 yards per catch. His blocking, while showing good effort, is high and lunging and inconsistent and questionable in every way. As a route runner, I question whether or not he has the moxxy to get open against NFL coverage; dude is SLOW on grass. But he is a load to bring down when he gets the ball, and he would offer a lot to the offense in the red zone. But Cheb, you already drafted a tight end! I know. Even though this mock addressed tight end in the first round, the position still isn't very strong. We would have Brate, the first-round rookie, old man Stocker, and a gaggle of JAGs. Roberts would add to special teams, which is important for a late rounder to make it on the squad, but he would be the heir apparent to Stocker. He's a developmental guy, for sure, and I don't expect him to take on a large role anytime soon. But he'd be a sixth round rookie, let's be realistic here.
Michael vs Appalachian State -
https://www.youtube.com/watch?v=SBt8oWK5DOE
Seventh Round - Tedrick Thompson, S, Colorado (6'0, 208lb). This guy had 23 passes defensed last year, seven of them were interceptions, sixteen were passes broken up. Those 23 passes defensed were tied for the most in college football last season. He also had 63 tackles and 3.5 for a loss. You read that and think wow, no way this guy is a consensus seventh round selection. And yet he is, and for good reason. He is a finesse guy to a T, a guy who would love to play seven-on-seven every snap, a guy who could be the MVP of your flag football league. Suffice to say, Tedrick Thompson isn't a natural hitter. His game versus Michigan, especially, led to some cringe-worthy tackling attempts. He's slow to fill the alley, and that's because he doesn't want to be there. Bad angles, worse tackling. Put him fifteen yards or further away from the line of scrimmage in pass coverage, he shines. He reads patterns very well and has a legitimate desire to make plays in the passing game. Sadly, that doesn't transition against the run. Tedrick may be too soft for the NFL, and since he's a shitty tackler he probably isn't going to do anything on special teams either. He could be another guy who washes out in training camp and never plays a meaningful Buccaneers snap. Then again, he could come alive with better coaching, and we could teach him the finer mechanics to tackling and hitting. If he can be a more physical player, he could be the steal of this draft class. But if he can't, he won't last long. Maybe we could sit him behind our three established safeties, give him a spot on the 53 but not a jersey on game day, redshirt him and coach him up. Maybe he could be a practice squad guy. But hey man, it's the seventh round, everybody's got warts around here.
Tedrick vs Michigan -
https://www.youtube.com/watch?v=irImLQKXQ8A
Tedrick vs Stanford -
https://www.youtube.com/watch?v=to_xZG2-7f0
--
The Bucs have met with every prospect on this list, as I mentioned in most of these selections. It isn't necessarily who I would select if I were them, but I think this has a decent chance of happening.
Thoughts? Opinions? Critiques? Respond below!