And now the moment you've all been waiting for
1st Round(17th)-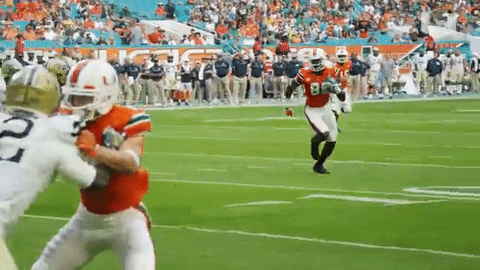 David Njoku, TE, Miami
He's growing on me. He's very limited as a starter but he's produced in a big way in that limited time. 1 stat intrigues me. Of his 64 career catches, 11 went for at least 30 yards. That's big play potential and this is a big play offense in Tampa. He'll be a good fit in 2 TE sets, in the slot, and even outside in the red zone. He plays more like a WR than a TE but he's coming along as a block. Let's be honest though, you don't draft a TE this high because of his blocking. He also possesses great YAC ability, something we're missing around here
2nd Round(50th)-
Jalen "Teez" Tabor, CB, Florida
Sometimes the Combine can be a blessing. He falls because he doesn't know how to run the 40. Big deal. Dude can ball. And damn well. Arguably the best of the Florida DBs to enter the draft in the past couple of years. Has tremendous ball skills, which is key in terms of taking the ball away. Here he rejoins Florida teammate, VH3 and could slide into the starting spot opposite him when Grimes departs.
3rd Round(84th)-
Juju Smith-Schuster, WR, USC
Another weapon for Winston. No he's not a RB but he damn sure looks like one and plays like one. Another guy who can turn a short pass into a longer gain. He'll fit in perfectly with Evans & Jackson, taking advantage of 1 on 1s.
4th Round(125th)-
Rayshawn Jenkins, S, Miami
He's big. He's fast. He can cover. No he's not Sean Taylor
but Jenkins is the type you want covering the deep part of the field. He can develop his craft for a season or 2 maybe, play ST, and fit in hopefully as the deep safety we've been looking for
5th Round (162nd)-
Brady Kaaya, QB, Miami
I know many will be saying "Bye, Felicia" to me for this pick, but hey. We get Winston's backup. Draft em, trade em. Maybe Kaaya becomes a trade piece 1 day. Maybe not. Maybe we need him to spell Winston for a few games. Maybe not. The tools are there and with Koetter's help he can get better. But at the least we've got a young cheap backup QB for Winston for the next 4 years.
6th Round(204th)-
Treyvon Hester, DT, Toledo
The gif was too funny to leave all alone. Seriously though he provides 1 thing our DT position does not have: Youth. And a lot of upside. He's a bit unpolished but he has size and is athletic. He can move for a guy his size.
7th Round(237th)-
Greg Pyke, OG, Georgia
Depth along the Oline. He's another guy we can cross-train at C.
Thoughts?